There are two main types of development services software companies focus on:
Website development
Each company is trying to expand its horizons and modify the online platforms, which gives it an extra boost. A well-designed and user-friendly app or website encourages customers to stay longer and connect with the company.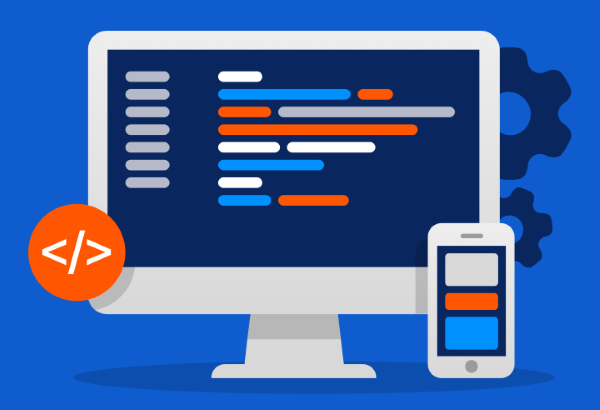 But if the site is running slow or doesn't meet customers' appearance expectations, they won't click the X button. Web development agencies are the first to call. They offer full-circuit web development services, from software engineering design to technical support.
Be it web design, content creation, scripting language or search engine optimization (SEO) for web maintenance, troubleshooting and security measures. The primary goal of web development is to make websites as simple and flexible as possible to help users find and navigate connections.
Nowadays, the process of developing and designing websites consists of taking a mobile-first approach, which helps to reach more users. The web page should be adaptable to any device and screen size, be it a smartphone, laptop or PC.
Mobile application development services
App development is not only a good brand. It is also a great tool for communication between the company and the client and more enjoyable for both.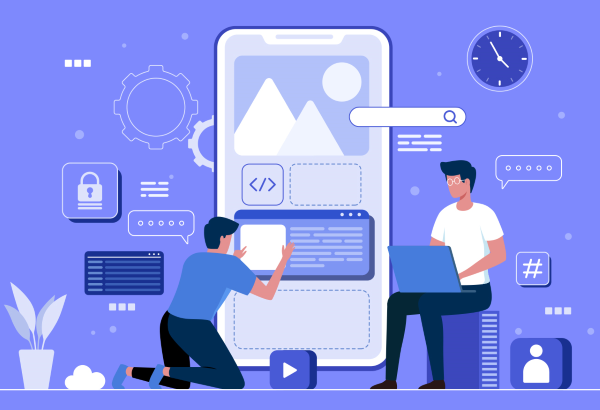 Applications extend the power of mobile and mobile devices to provide a seamless expansion of the scale that businesses can serve to consumers over the Internet. The most important thing in the application is the appearance. The interface of the application should be attractive and comfortable to use.
Moreover, it should have a unique identity that reflects the brand message of the company and helps to establish an emotional connection with customers. Custom illustrations, animations, etc. increase user interaction and differentiate the company from the competition
However, the developer team can offer different services within these types. Don't just build an app/website, improve your existing site or help with regular maintenance. Let's simply move on to these services.
Sites Design
The web design process involves creating the structure of the site, designing its layout and user interface, and making it work properly.
Designers create a draft of the visual structure of the application, which helps to understand how the application will look and make mockups to meet the expectations of the users.
They can also improve the look of your existing website for any type of device.
Support and maintenance
This service provides post support after the project is completed. Everything from checking your web app for broken links and scripts to updating your web app's content or adding new features to keep it up to date. So the developers are responsible for the service they provide.
Wednesday Host
These web development companies provide server space for you to set up your own business. They bring server management, backup services, software maintenance, security, technical support, and a lot of other features.
web programming
By using languages ​​like PHP, Ruby on Rails, or Java, web programmers can help you with everything from back-end coding to front-end development to making your app available for other companies to integrate into their own product.
Web optimization
Developers check your page rank when it comes to SEO, speed, backlinks, load times, and mobile experience and then provide effective solutions to boost your business.
The cost of web development depends on exactly what service you need, how much work and how you choose to solve it: using a template, developing cloud services, or contracting with an outsourcing company.
Collaboration model for web development and project complexity
Before looking for a web development team, you should determine the size and goals of your project.
There can be different levels of complexity:
simple one. It involves creating a simple website or developing the existing one by incorporating additional features.
Average level. It includes building a web application, online store, and everything that requires integration of other solutions such as CRM, CMS, various databases, AI chat bots, etc.
Big project. It requires a combination of advanced technologies and integration with cloud hosting servers to store and process all user data in real time. This is e-commerce stores or social network building operations.
According to your business demand, you can choose the most suitable cooperation model:
Dedicated development team (a team of developers who work on a project over a long period of time).
Extension of the team (one or more software developers who have the specific skills required for a project).
Managed team (one or more developers who can augment your in-house development team locally or remotely).
Outsourcing (delegating your work to an entity outside your core team).
How do you find your website/web application development company?
To find your perfect web development team, you should pay attention to a few things:
Reviews and recommendations. There are a lot of platforms like Clutch and GoodFirms where you can easily check the company's price, size, main technical focus, etc. Also, the company has a list of clients who can describe their own experience working with the team.
Project estimate. The estimate should be based on the scope of the project, the number of full stack developers involved, project managers, designers, QA engineer, and compliance with the quality-price ratio.
Scope of experience. Hire the team that specializes in your field. They will give you the exact solution you need, because they know how it works.
The company of your choice may follow one of several payment models such as ad hoc team, time and materials, fixed rate, hybrid or other.
Qualification of web developers. Pay attention to the experience of the developers you'll be hiring, their past projects, and set up a meeting to interview them.