There are many advantages to using an LCD monitor to watch movies and series instead of watching them on a smart TV. First, while most smart TVs offer decent video quality, they still tend to emit a lot of light, which can strain your eyesight. In comparison, LCD projectors work by reflecting light, which is significantly less stressful for your eyes and ultimately more comfortable viewing your content. Not only that, but while Smart TVs are limited to a specific image size that directly depends on the screen size, LCD projectors can produce much larger images, creating an easier viewing experience that is less demanding on your eyes, especially when trying to pay attention to smaller details on the screen. Best of all, LCD monitors don't take up as much space as a large Smart TV. So, if you are looking for a new LCD projector for your home, consider using the newly released VANKYO Performance V700W Livehouse Projector.
VANKYO Performance V700W is a TFT LCD home theater projector that can display detailed 1080P Full HD video with brightness up to 420 ANSI, and features an adjustable projection size between 38″ all the way up to 224″ of projection distance that can range from 3.6 feet to 21.98 feet, built-in 5W dual Dolby speakers that can deliver true 360-degree panoramic sound, built-in controls, and universal connectivity, featuring two HDMI and two USB ports, one 3.5mm audio output, plus two-way Bluetooth 5.1 connectivity and connectivity Wi-Fi for both 2.4 GHz and 5 GHz networks.
Designed to offer you much greater flexibility than most smart TV screens while also being safer for your eyes health, combined with a 360-degree panoramic sound scene that helps create a more immersive viewing and listening experience, this TFT LCD home theater projector can completely transform The way you watch movies and series at home, takes the whole home cinema to a whole other level.
Now, let's take a more detailed look at the VANKYO Performance V700W and talk a little more about everything that this TFT LCD home theater projector has to offer you.
Design and Specifications
Starting with the projector size, VANKYO Performance V700W comes in a sleek and compact size, measuring just 11.41″ long, 8.66″ wide and 3.54″ wide (29cm x 22cm x 9cm), so you can be sure that this projector won't take up much space to install, Be it on a small stand or living room nightstand, etc.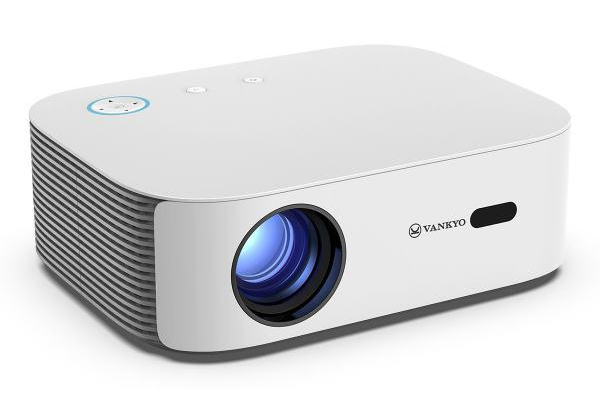 The projector also has a simple and modern design throughout its white body, which comes covered in a glossy finish, and also has a fairly sturdy build.
Still talking about installing it, know that you can set it up in three (x3) different viewing options, namely: Front (display its image towards the front in a wall, screen or canvas), Rear (display its image from the back A custom-made piece of cloth either scrim or canvas) reel) or ceiling-mounted (with it fixed to the ceiling and having its image projected down on a wall, screen, or canvas while it is from above).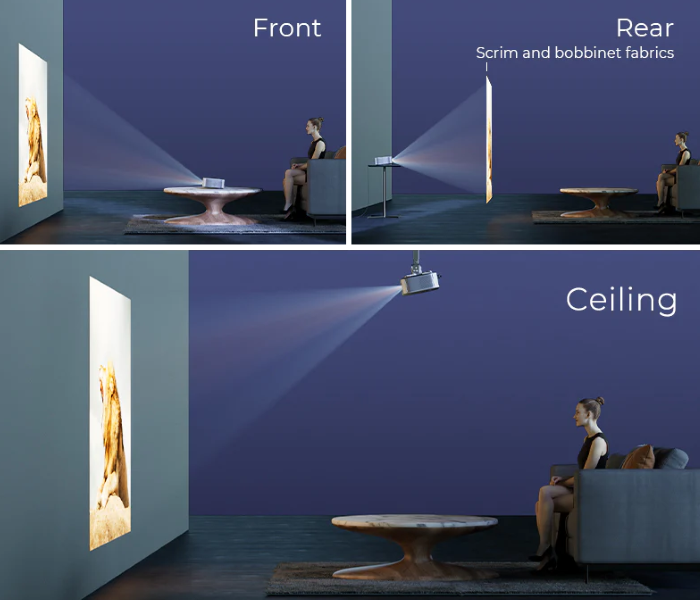 Go to the projector's image specifications. As this is a TFT LCD home theater projector, the VANKYO Performance V700W uses a TFT LCD (Thin Transistor Liquid Crystal Display) lens, which is powered by the latest LCD technology, allowing it to display its video in 1920p by 1080p native resolution. , making it capable of delivering a detailed and original cinema-like image in 1080p HD picture quality.
For other video display settings, note that the VANKYO Performance V700W features a 1000:1 contrast ratio, allowing it to deliver rich and detailed 1080p picture quality, 8-bit color processing that allows it to display a wide color gamut, and built-in LED light (works with a TFT lens). its LCD) which has a maximum brightness level of 420 ANSI lumens, which helps the projector to provide superb image clarity.
While the monitor's native display resolution is 1080p, note that this monitor supports a total of six (x6) input signals (meaning video modes) to display its video in different resolutions, which include: 576i, 576P, 720i, 720P, 1080i , 1080P (reminder that "i" means "interlaced" and "p" means "progressive scan").
The projector also supports many different video formats when viewing video, including AVI, MP4, MKV, FLV, MOV, RMVB, 3GP, MPEG1, MPEG2, H.264, and XVID, and also supports some different image formats when used to display images , including .bmp, .jpg, .png, and .JPEG.
As this projector features a 1.35:1 (D:W) projection ratio, it has an adjustable image projection size (ie its screen width) that can be set as low as 38, or up to 224″, from a distance Projection that can range from 3.6 feet all the way up to 21.98 feet (maximum projection distance between the target wall/screen/fabric and the projector).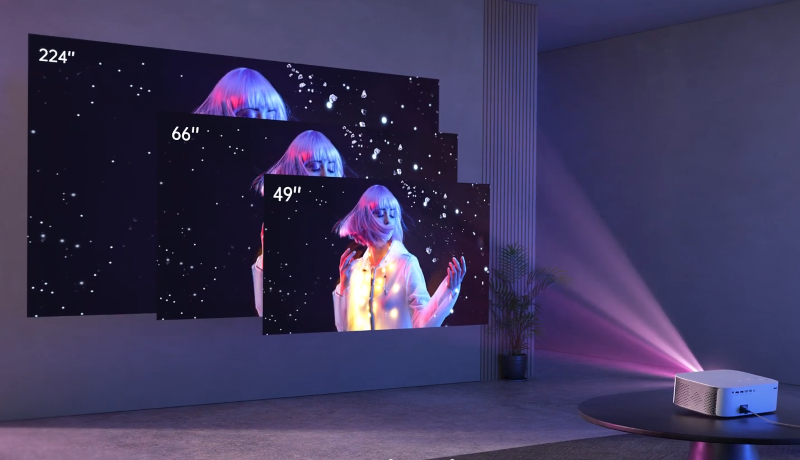 Furthermore, it should be noted that this monitor can be configured to display its video in one of three (x3) aspect ratio settings, including 16:9, 4:3 or Auto (auto-detection).
It is also important to note that its TFT LCD lens also utilizes low blue light emission (by which it filters 50.3% of blue light) as well as optimum color performance, in accordance with IEC 62471-5 safety standard, ultimately ensuring that the eyes of its users are less of a strain. at a minimum.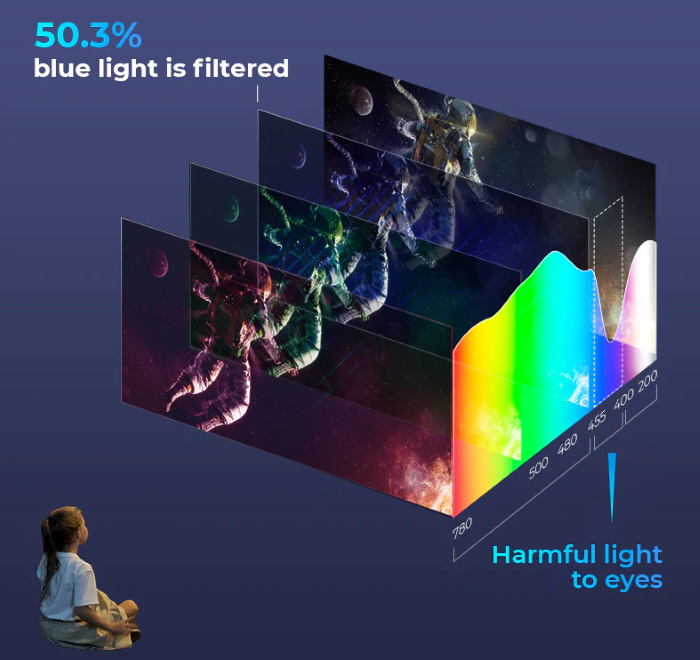 The projector has been certified to industry safety requirements (low blue light and optimum color performance) by TÜV Rheinlan, a leading independent testing and certification company.
The VANKYO Performance V700W also comes with a set of built-in 5W (x2) speakers for audio production (rated an impedance of 4 ohms), which utilize Dolby Digital Plus audio technology, making this projector capable of delivering true panoramic sound at an angle. 360 degrees for a truly immersive listening experience.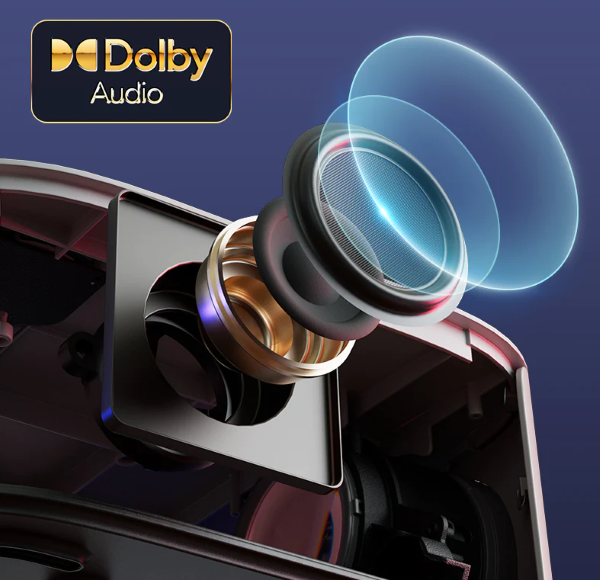 Furthermore, the projector is also designed to be seamlessly adaptable to long-range electric remote controls, featuring both remote control focus and remote screen zoom for the inline remote control (or any other compatible electric remote control). It can be used with this projector).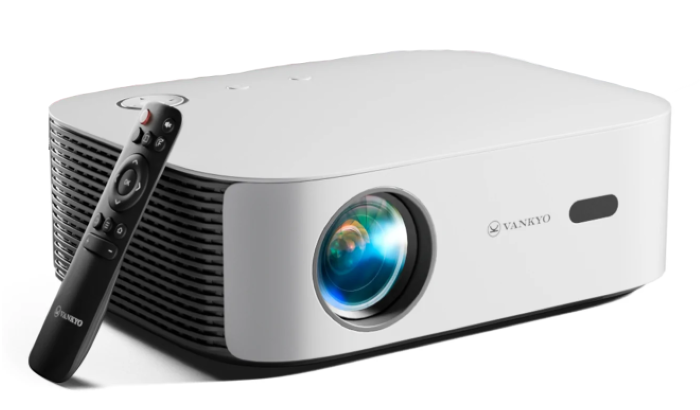 The projector also integrates a manual focus system that allows you to manually make keystone correction adjustments (via the thumb wheel) between ±15° (vertical only).
Last but not least, the projector also comes with a free 120″ projector screen included in its package as well as a set of included hooks to mount it in any room, allowing you to turn that room into your own personal theater.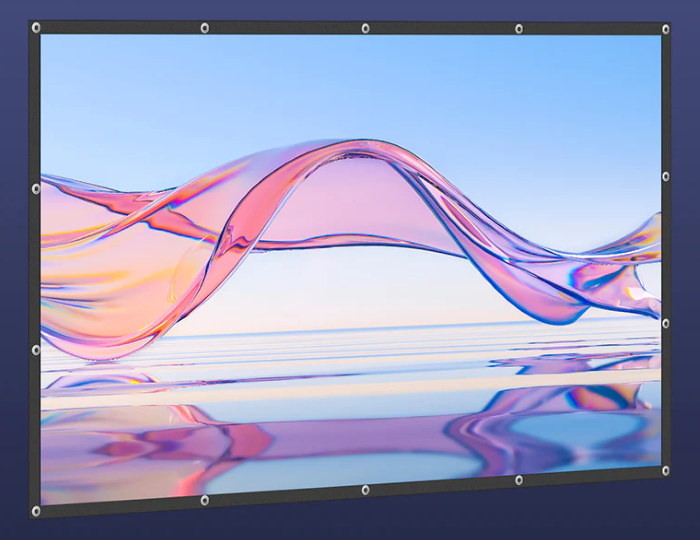 The 120-inch display screen built into the projector is made of special lightweight, foldable materials that are highly resistant to abrasion and wear, allowing this display to deliver a high-quality image.
Finally, in terms of its power specifications, know that the projector features an AC power supply rated from 100 to 240 V (at 50/60 Hz).
interface and control panel
Then, when it comes to the projector interface, as mentioned before, the VANKYO Performance V700W also incorporates built-in controls, all of which can be found on the top side, including the power on/off button, settings buttons, and wheel buttons. Menu arrows plus OK button.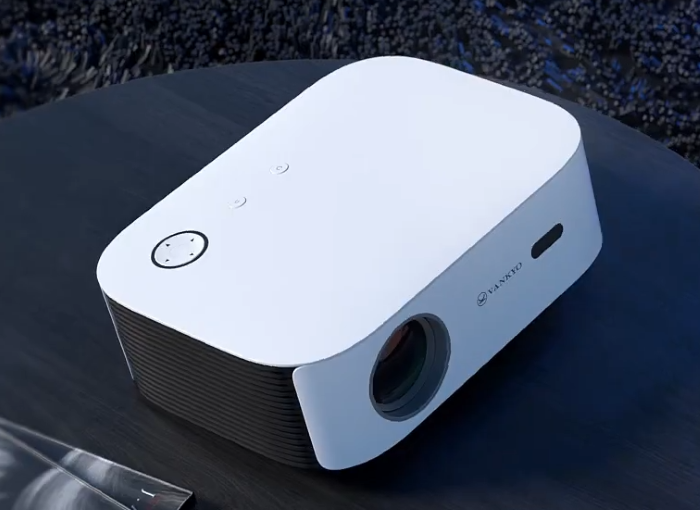 On the back of the projector, users can also find all of its connectivity ports, which include two HDMI, two USB, and one 3.5mm audio output, as well as a manual focus system thumb wheel on the far end (used for keystone correction adjustments).
Connection
As for the wireless connection methods, the projector also features a two-way Bluetooth 5.1 connection, which not only allows you to connect it to any smartphone, iPad or other Bluetooth-enabled devices that you will use as the video source used by the projector. Then mirror that video (even video from a game) and display it, but at the same time connect it to a Bluetooth audio device such as a pair of Bluetooth headphones, a Bluetooth speaker, or a speaker, and play the audio of your content via any of those devices.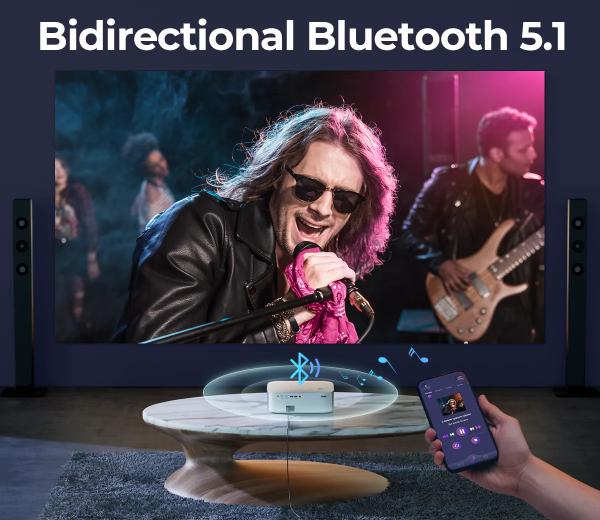 Additionally, the projector also features Wi-Fi connectivity for both 2.4GHz and 5GHz networks, allowing you to use it to display video from most streaming services after connecting it to any Wi-Fi-enabled device (such as a Smart TV, for example).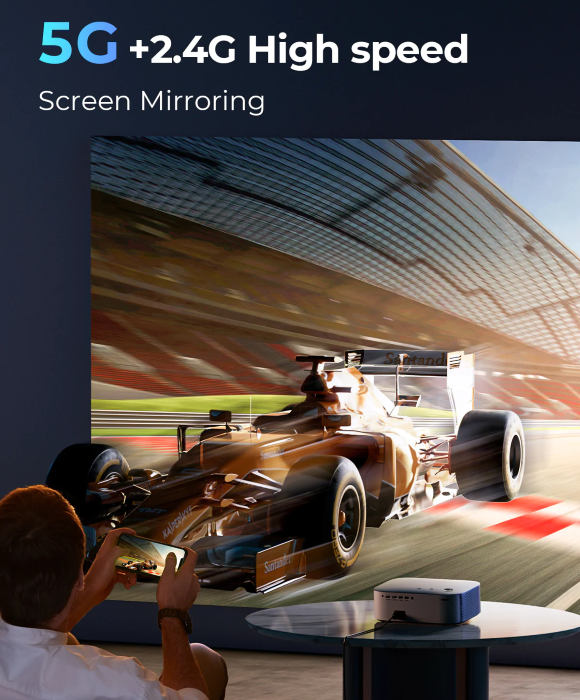 What's in the box?
The projector comes elegantly packaged within an eco-friendly molded fiber pulp case package made primarily of eco-friendly packaging materials (such as soy ink), helping to reduce total carbon emissions by around 564.5 grams.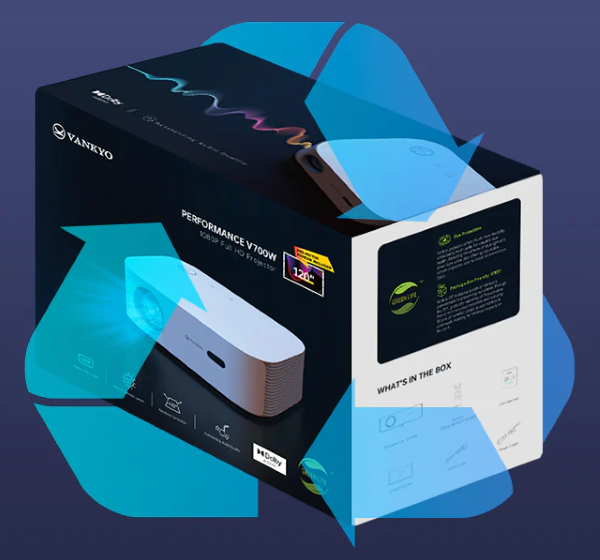 Inside their package, users will find: the Vankyo Performance V700W projector, along with the projector's included power cable, remote control (batteries are not included), the free included 120″ projector, plus an HD connection cable, and also Projector User's Guide.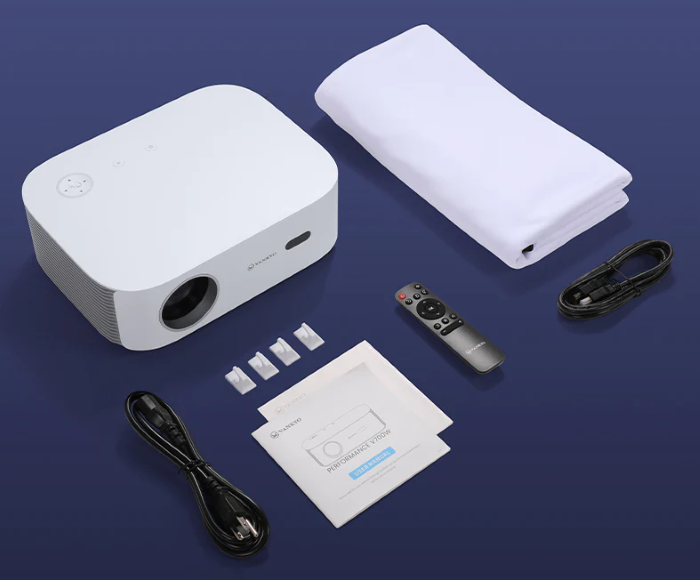 last thoughts
VANKYO Performance V700W is a TFT LCD home theater projector that can display detailed 1080P Full HD video with brightness up to 420 ANSI, and features an adjustable projection size between 38″ all the way up to 224 ft. The projection distance can range from 3.6 feet to 21.98 feet Built-in dual 5W Dolby speakers that can deliver true 360-degree panoramic sound Built-in controls and universal connectivity Featuring two HDMI and two USB ports, one 3.5mm audio output, two-way Bluetooth 5.1 and Wi-Fi Fi for both 2.4 GHz and 5 GHz networks.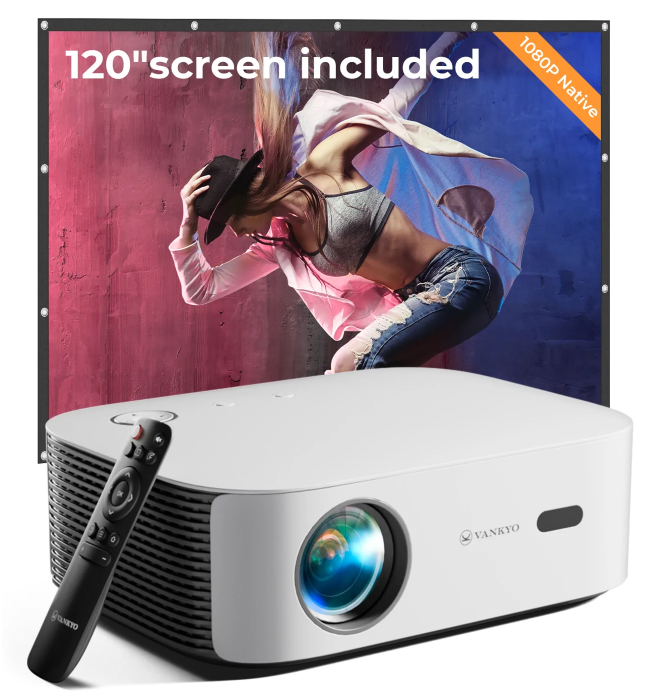 Overall, VANKYO Performance V700W is a great choice for a home theater projector, which is capable of displaying video or photos with clear and detailed picture quality of 1080P, while providing plenty of video for you. Tuning settings, decent immersive sound with 360-degree panoramic sound, as well as tremendous versatility thanks to the multiple connectivity options.
If you're interested in purchasing it, know that this projector is for only $299, and every purchase also comes with a 3-year warranty. You can order it online now directly from VANKYO OFFICIAL SHOPPING PAGE.