Building sand castles is a great family-friendly activity for kids of all ages, and it's a great way for the whole family to have fun when spending time at the beach. Not only is building sand castles a great way for kids and parents to spend some quality time together at the beach and create some long lasting memories, but doing so also allows kids to explore and develop their motor skills. With the Create A Castle Pro Tower Kit, kids are offered an easy, fun and exciting way to build castles with sand or snow.
The Create A Castle Pro Tower Kit is a split castle template set that contains various castle structure parts of various sizes including castle towers, corbels, and block battlements, plus a few different detailing tools that allow kids to easily build castle-like structures with sand or snow in a short period of time.
Create A Castle sets allow kids to build any type of castle they can imagine, from a low-level kingdom to uniquely large castles with towers of different sizes, which they can stack separate tower blocks in different positions to swap heights and even add a corbel structure in between to add unique levels of complexity.
Each set comes with different separate templates for castle structures that make each build unique. The possibilities are only limited by your kid's imagination!
Now, let's take a slightly more detailed look at the Create A Castle Pro Tower Kit and check out exactly how this castle split deck is designed to work.
Design and specifications
First, we'd like to start by noting that the Create A Castle Pro Tower Kit is the company's most complete kit (which the company was kind enough to provide us with for our review), and it contains the largest amount of castle splitting templates and detailing tools.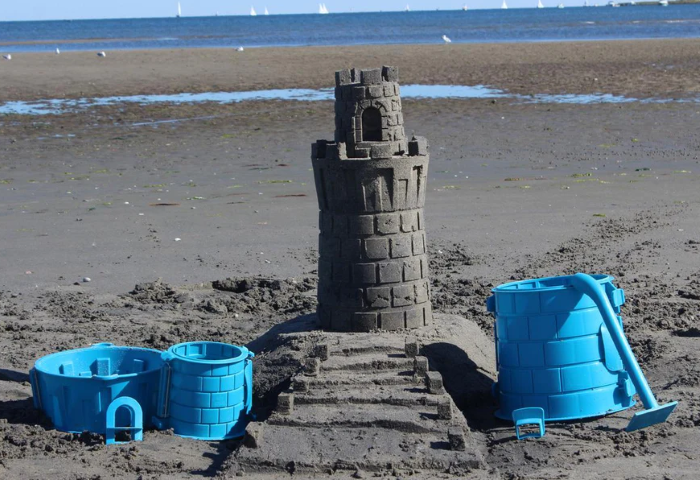 All parts of the castle structure and detailing tools included in the set are made of high-quality plastic and feature a child-friendly design, with no pointed edges at all and only rounded edges, thus ensuring the safety of your children while playing with this castle-building kit.
The set also comes with a stylish mesh backpack that makes it super easy for kids to carry the entire set with them in a lightweight and convenient way.
What's in the box?
In terms of the castle building tools featured in the Create A Castle Pro Tower Kit, these include:
10″ turret split system cylinder.
6″ Tower Split System Cylinder – This castle section can be stacked on top of another already built castle structure or used individually as a smaller tower.
x1 Corbel – A decorative castle structure that looks like an arch for added stability and a beautiful arch effect that is placed between two separate castle towers and linked together.
X1 Ridged Battlement Brick Form This castle part can be perfectly placed on top of a 10″ turret split system cylinder to add an extra 1.5″ of height.
x1 Window Cutter – A useful detailing tool that can be used to carve out stylish windows.
Multi-Purpose Tool x1 – Handy multi-tool is great for quickly cleaning up remaining sand as well as helping to break the seal of each tower split system cylinder.
Mesh Backpack x1 – For easy and convenient packing and transporting anywhere you go!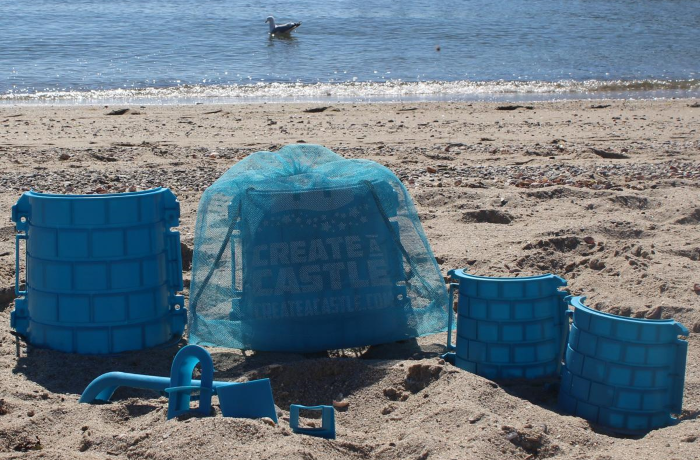 how to use?
To use this castle split mold set, kids simply have to add wet sand (or alternatively wet snow) to any castle split mold included in their toolkit, where they can then easily start creating adorable sand (or snow) castle structures. in a relatively short period of time.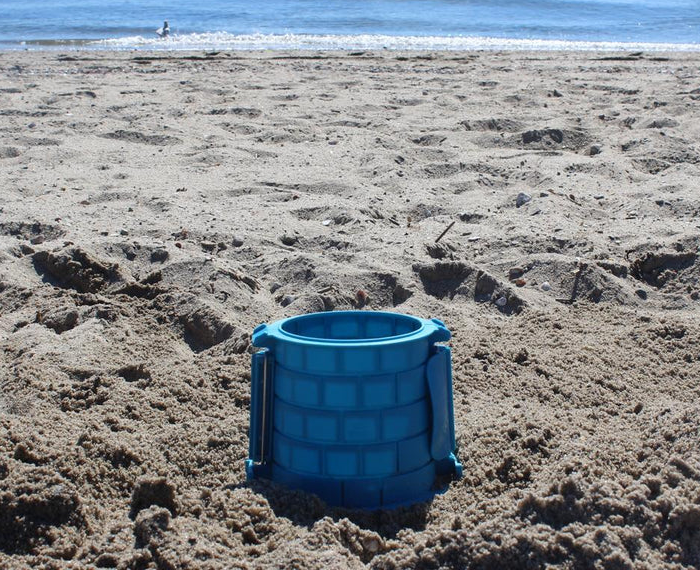 Once that's done, all that's left to do is start laying out the split molds of the different castle for the group on a flat surface in the sand (or in the snow).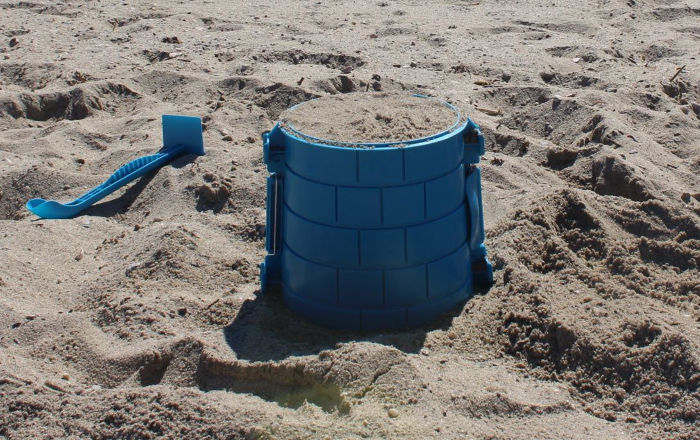 Finally, kids can finish building their sand castle (or snow castle) by giving the entire castle creation some realistic castle detailing using the detailing tools included in the set.
Final thoughts
The Create A Castle Pro Tower Kit is a set of cut-out castle templates with various castle structure parts of different sizes including castle turrets, corbels, and block battlements, as well as a few different detailing tools that allow kids to build castle-like structures Easily with sand or snow in a short period of time.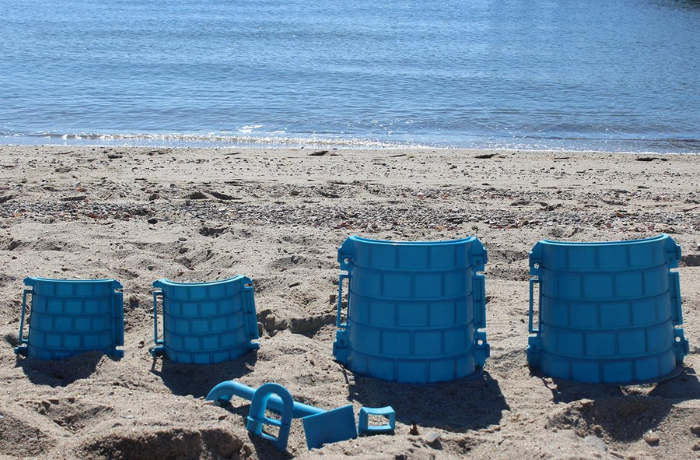 With this unique split block castle building set, kids and their parents are offered a unique and super fun way to build castles on the beach or in the snow and take their creativity to a whole other level, all while making some great memories with the rest of the family that they will surely never forget.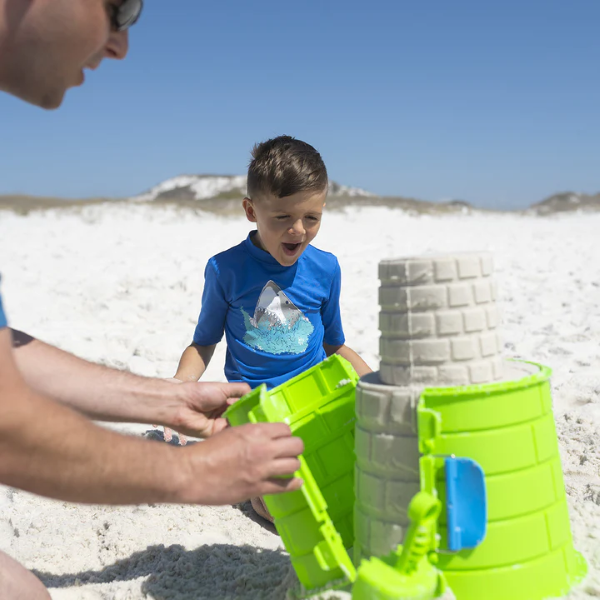 If you are interested in purchasing the Create A Castle Pro Tower Kit, know that the price of each set is only $49.99. You can order it online, either directly From the corresponding shopping page to create a castleAlternatively, you can also Get it from Amazonif you prefer.
---
We also like to note that the company also has smaller starter kits as well as additional accessories available for purchase. You can check out their entire product line by visiting Create the official online castle storeand you can also find it Create a line of Castle products available on Amazon.
---
On a final note, know that all of Create A Castle's various castle building split mold sets can also be used indoors, which all your kids will need for that either BuildMaster CastleMagic Sand or BuildMaster CastleMagic Snow, specially formulated compounds that closely mimic the feel and feel of sand and snow .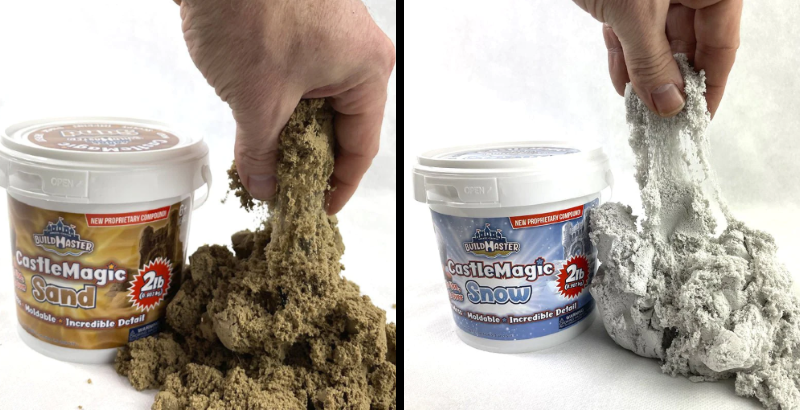 Each of these compounds comes in 2 lbs. Buckets, which are priced at just $14.99 each. You can buy those via Create a shopping page corresponding to the castle.