It's always nice to have the chance to spend some time at the beach relaxing and enjoying the sun, especially during the summer. However, finding the perfect beach towel isn't always easy, as many towels are either made of materials that aren't suitable for beach use (like bath towels) or, in the worst case, are constructed with cheap materials that make them bad. In what they are supposed to do, which is the ability to absorb water and keep you dry. On that note, if you are looking for a beach towel that can keep you properly dry and also comfortably on the beach all day, then consider getting a beach towel from BeachTech Towels.
Eco-friendly, high-performance, and quick-drying BeachTech Towels are made from a special microfiber material sourced from recycled water bottles, making them more absorbent and sand-resistant than the best cotton or polyester beach towels. , while also being able to dry very quickly in just 5 minutes, taking up only 20% of the water normally required to wash a regular towel.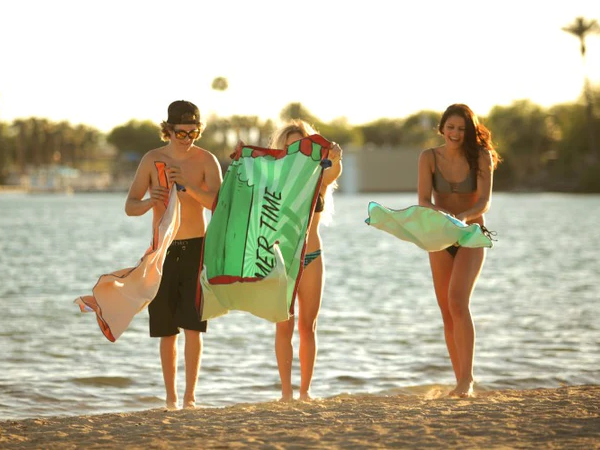 All in all, these high performance beach towels are great for keeping your body dry, warm, and happy whenever you're planning a day at the beach. With one of BeachTech's towels, you'll never have to deal with getting your clothes wet nor worry about bringing sand home.
Now, let's take a slightly more detailed look at BeachTech towels and investigate exactly how they are made so we can understand what makes them such a great choice of beach towels.
design
Starting with its size, each BeachTech beach towel comes in a fairly large size, measuring exactly 60 inches long and 30 inches wide when fully opened, giving you a fairly large area for one person to lay on it or cover themselves with. These beach towels are also very lightweight.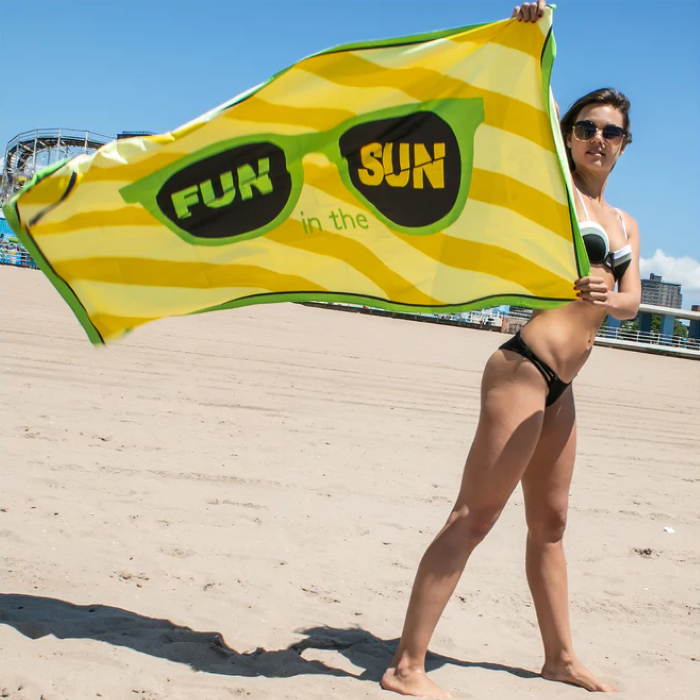 Moreover, these beach towels are also designed with portability in mind, as each towel also comes stitched with a sewn-in elastic band that is used to wrap around them in order to keep them folded securely and neatly for easy storage and travel. When fully rolled up and secured with its own sewn-in elastic band, each towel measures 8 inches long, 4 inches wide, and 1.5 inches long.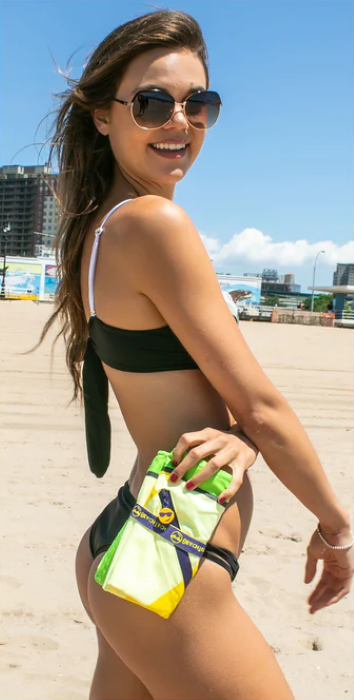 When it comes to their construction, BeachTech Towels feature quality construction with the utmost attention to detail, designed with high performance in mind. More specifically, our quick-drying, eco-friendly, high-performance beach towels are made from high-quality microfiber material sourced from recycled water bottles (each towel takes exactly 12 recycled water bottles), which is a foundation that helps prevent textile waste, The manufacture of these towels requires much less resources than using conventional or organic cotton.
Not only is this high-quality microfiber material a great sustainable choice for making high-performance beach towels, but it also makes them incredibly lightweight, ultra-soft, and most importantly, highly absorbent.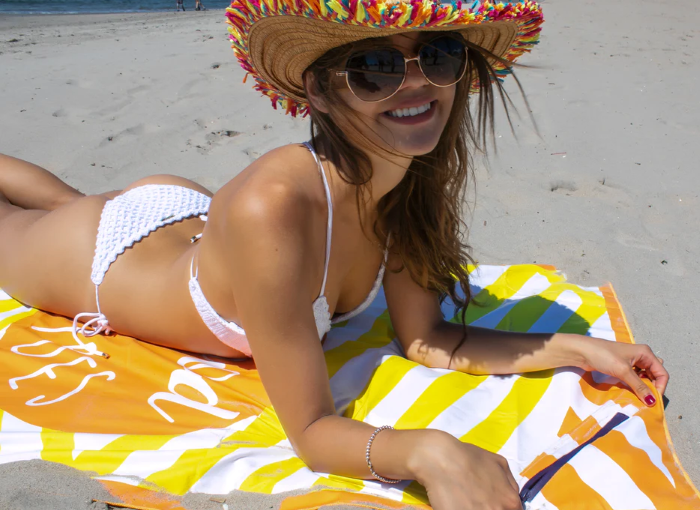 In fact, BeachTech Towels are rated as three times more absorbent and also more sand-resistant than even the best cotton or polyester beach towels. On top of that, these beach towels are also rated as being able to dry very quickly in just 5 minutes, so you won't need to tumble dry.
Plus, when it comes to washing them, they also only require 20% of the water normally needed to wash a regular towel, so you'll also save some money when you want to wash your BeachTech towel.
Then, in terms of their design, we're really happy to say that all of BeachTech's performance beach towels are available in a variety of unique and adorable designs, all featuring gorgeous colorful patterns and adorable oversized images. , some with really funny and original quotes like the company's "I Need Vitamin C" towel, which is the towel we got for our review.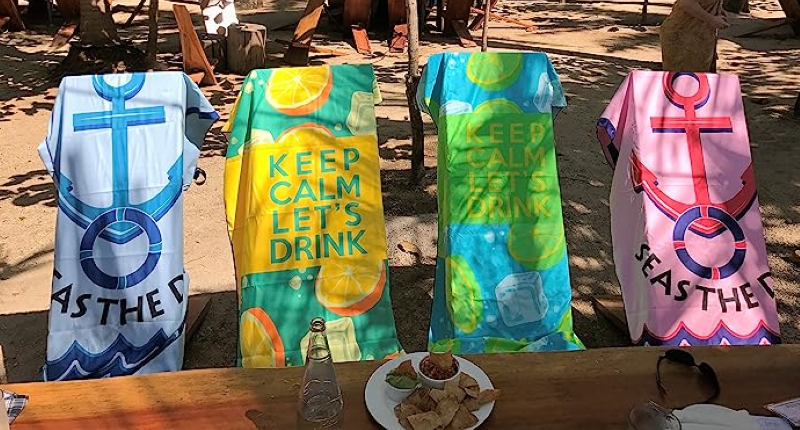 Last but not least, each BeachTech towel also comes together in a storage bag (which has the same design as each towel) made from the same durable, sustainable, eco-friendly microfiber material these beach towels are made from.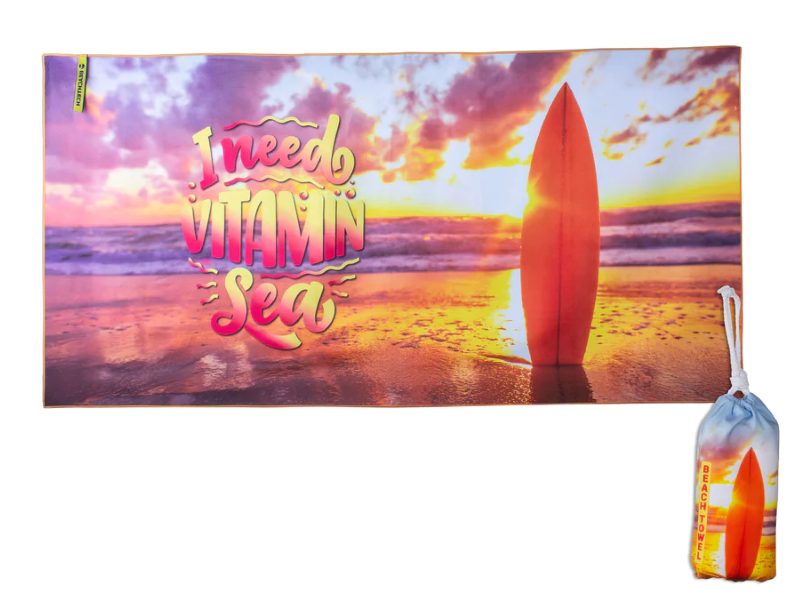 Each bag can perfectly fit the towel inside, along with a few of your personal items, such as your wallet, keys, glasses, and your phone too, which means you can easily pack everything you need for a day at the beach using only the bag that holds the towel.
Product variety (available models)
BeachTech Towels are available in three (x3) different product models, namely: standard adult towels, pocketed towels, and hooded children's towels.
Beach Tech towels for adults
BeachTech standard towel models for adults include all the key features we discussed above and are available in a variety of different great looking designs.
Towels with pockets
In addition, the company also sells beach towels that come sewn with a neat pocket, where you can safely stash a personal item or two such as your smartphone and/or wallet. This is great for those times when you leave your towel behind, like when you're enjoying the water or even if you're going to the beach bar for a refreshing drink or some snacks.
Hooded baby towels
Finally, the company also sells hooded baby washcloths designed specifically for babies.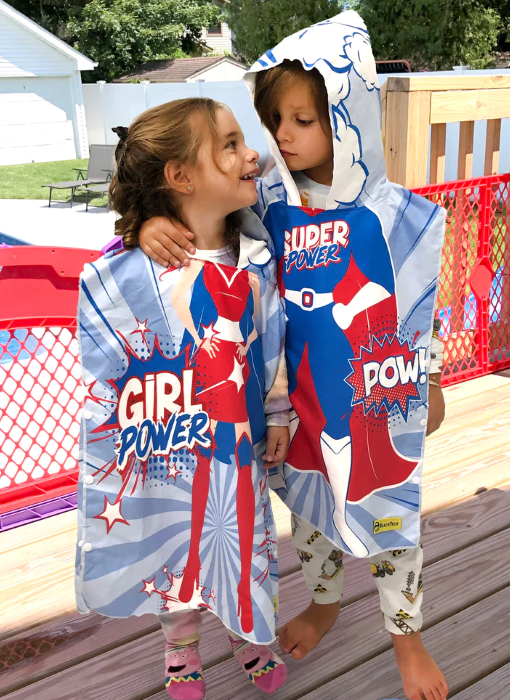 What makes these baby towels so special is that they come stitched with a color changing UV sensor which specifically helps keep babies safe and aware from exposure to the sun's harmful rays at times when the sun is very strong, because it clearly indicates how intense it is. The sun's ultraviolet rays are present at any moment.
Pricing and availability
If you are interested in purchasing your own BeachTech towel, know that Standard Beach Tech Towels For adults (no stitched pocket), go for just $24.99 each, Beach Towels with pockets Sold for a little extra at just $29.99 per towel, and BeachTech Kids Hooded Towelswhich range in price from $24.99 (for simpler designs) to $29.99 (for full-body cartoon designs).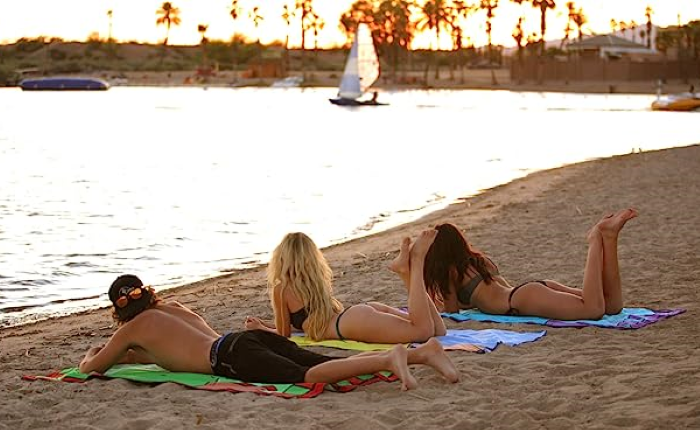 You can order your favorite model online directly from BeachTech Towels official shopping pageor you can browse the different designs of each model by clicking any of the corresponding shopping links above.