When it comes to making on-demand voice calls, today's modern devices that allow personal communications (whether over a cellular network, over an Internet connection, or using mobile data) have made communicating with other people through voice calls more readily available, be it Just calling family members or even if it involves making an important business call. In fact, while cell phones were originally equipped with only one microphone to capture the user's voice during a call, nowadays smartphones usually integrate at least three or four MEMS microphones, which makes their voice recording capabilities more refined. However, if you're looking to make a voice call in a crowded area, it can be very difficult – or even impossible – for someone you're calling to be able to hear you properly, as it is at any time. In a crowded environment, it is likely that others around you will also make noise. This issue goes further if you actually need to have a private/confidential conversation with whomever you're calling, as in this case, you obviously don't want others around you to hear what you have to say. Enter Skyted, a startup that recently unveiled an outdoor sound-absorbing mask called Skyted Silent mask at CES 2023, which aims to provide privacy for silent and secret audio calls and meetings, and maybe even a silent form of gaming, no matter where you are.
Who is SKYTED?
skyted is a French start-up company headquartered in Toulouse, France that specializes in the development of new and innovative communication solutions and communication services that support new mobility and HybridWork by reducing the impact of the user's voice in their surrounding environment, thus redefining the many possibilities of ultimately performing personal calls and other forms of communication within work space, within a public area, or even in a home environment.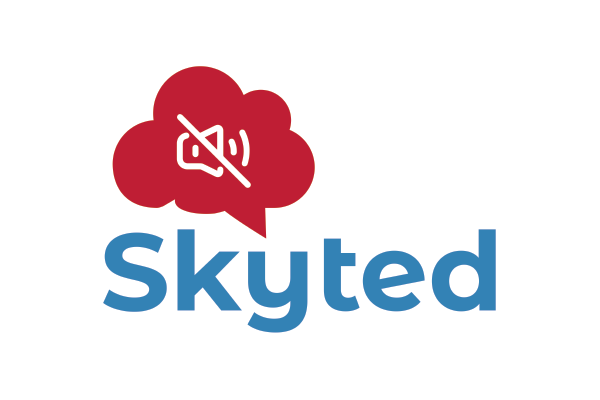 Skyted is supported and funded by major players in the aerospace and aviation industries, including Airbus Dev. Moreover, the company has also joined the European Space Agency's Accelerator Program to offer in-flight calls using the Skyted Silent Mask.
The Skyted Silent Mask is the conceptual product of a theoretical problem that was originally presented by an Airbus Dev customer to Skyted CEO and former Vice President of Airbus, Stéphane Hersen, who was asked by that customer if it was possible to have a system or solution that would It allows 300 passengers on the plane to make voice calls on the plane individually at the same time, but without disturbing each other or arguing with each other.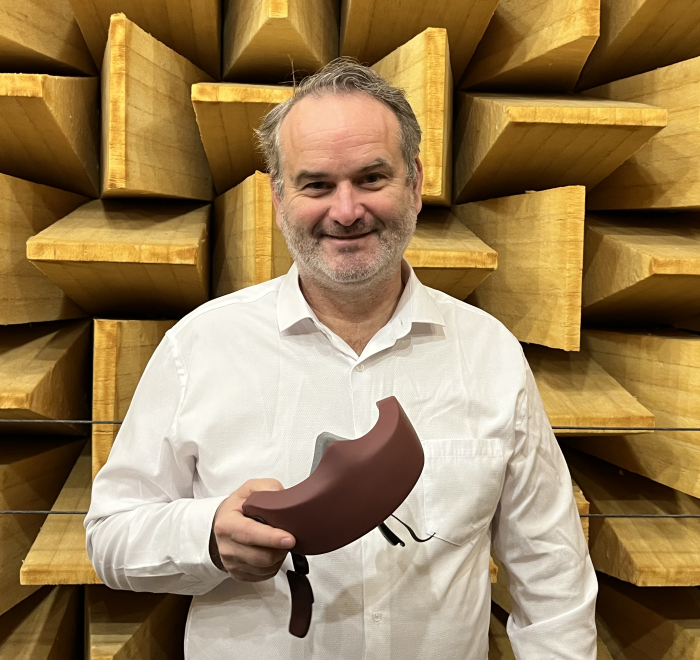 Herson began talking to Ph.D.s and experienced engineers about the number of decibels a human voice (ie It is estimated to be between approximately 55dB to 65dB), who were told by these experts that stopping the propagation of the human voice is just like stopping the sound of an airplane, for which you need some kind of muffler system to dissipate the sound.
The problem then was that people couldn't really wear a silencer in most scenarios, so Hersen came up with the idea of ​​creating an open sound-absorbing mask specifically designed to disable sound from spreading outward, and thus, the Skyted Silent Mask was born.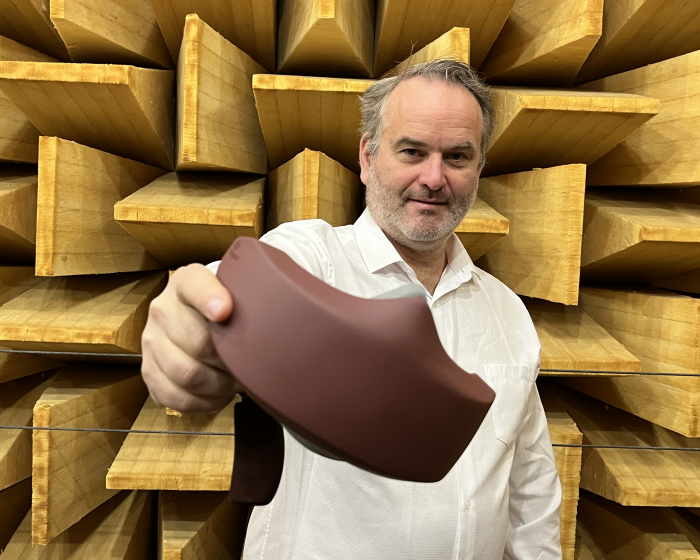 "My original concept was from a transmission perspective, focusing on how to prevent human voice from traveling to keep calls private, silent, and confidential. Working in the aerospace industry, it made sense to engineer the mask with a space-sourced sound absorber, so our mask is made of a metamaterial, It is an acoustic liner developed by French Darpa ONERA to silence the detonation of aircraft in jet engines." Hersen said in a recent interview.
"Three years after this project began due to new hybrid working conditions, billions of workers regularly deal with calls in noisy, confined, crowded spaces. We have all experienced calls in extremely noisy situations, with a high potential for breaches of confidentiality and frequent noise assaults for those around us, not to mention Compete conference calls even inside our homes."
Embedded below, our readers can check out a video of Skyted CEO Stefan Hirsen testing the Skyted Silent Mask in a professional anechoic chamber located in Toulouse, France, for which this test took place ahead of CES 2023.
What is SKYTED SILENT MASK?
The Skyted Silent Mask is a sound and sound absorbing outdoor wearable mask that uses advanced aeronautical technology to absorb 80% of acoustic vibrations in order to contain the user's voice for private and discreet calls in both real and virtual worlds, featuring an internal bone conductive microphone that picks up only the user's voice But without external noise, and a special airflow design based on open jet engine technology that allows air to flow in and out of the mask without restriction, in addition to Bluetooth connectivity that allows the mask to communicate wirelessly with any smartphone or other personal device, while also making it compatible with video calling applications Like Zoom.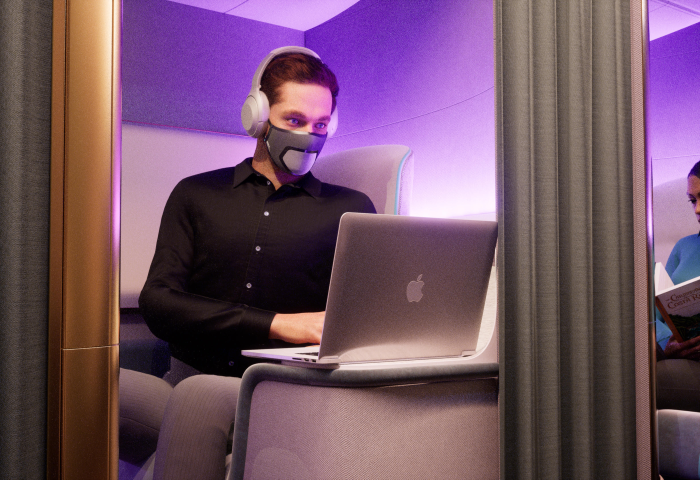 By using the Skyted Silent Mask, users can have their own closed personal environment that finally allows them to make voice calls in complete privacy and without being heard by others nearby and also without creating any noise related disturbance to anyone near them.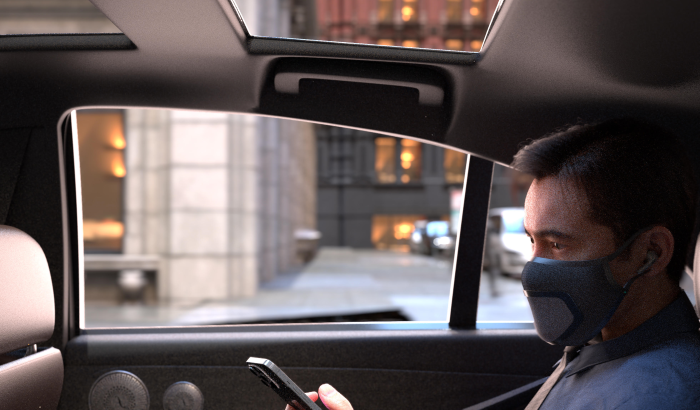 How does the SKYTED SILENT MASK work?
In terms of its construction, the Skyted Silent Mask is designed to be able to properly contain the user's voice while still being fairly lightweight for the comfort of its users.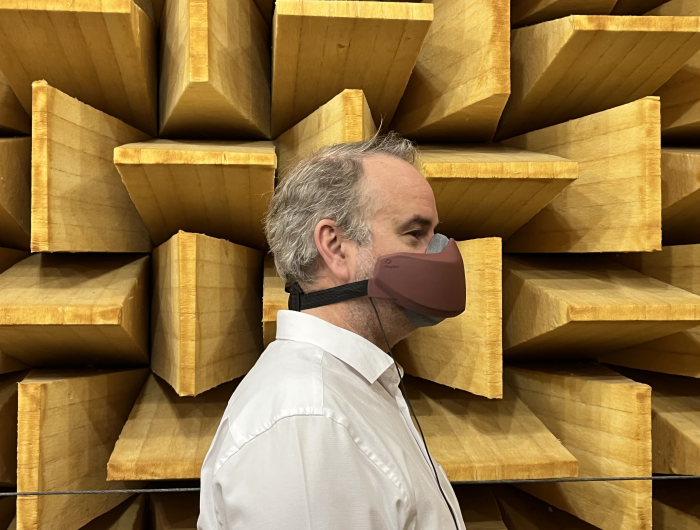 Therefore, the mask is made of military-grade acoustic cushioning material that makes it weigh only 220 grams, but still manages to take full advantage of the same advanced aerospace technology that is used to silence the jet blast in jet engines in order to make it absorbent. 80% of the user's voice vibrations so that it can eventually contain the user's voice for private and confidential calls, which can be made in the real world as well as in the virtual world.
To capture only the user's voice, the Skyted Silent Mask comes with an internal bone conductive microphone specifically designed to capture only the user's voice but without external noise from outside the mask.
More specifically, the mask's internal bone conductor microphone works by transmitting sound vibrations through the user's cheekbones instead of through air, whose microphone can ultimately reduce sounds from -25 to -40dB.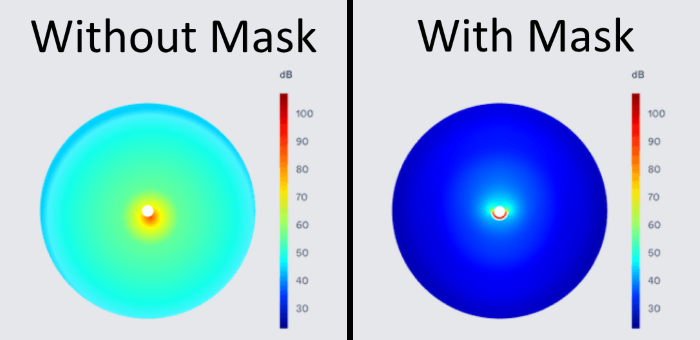 Moreover, the mask also features a special airflow design based on an open-air jet engine technology that basically allows the airflow to move unrestricted both in the mask as well as outside the mask, allowing users to breathe properly and easily.
In other words, there are no components between the user's mouth and the "nostrils" of the mask (i.e. the airways of the mask).
In addition, the Skyted Silent Mask also features Bluetooth connectivity by incorporating a Bluetooth PCB (Printed Circuit Board), which ultimately allows the device to communicate wirelessly with any smartphone or other personal device (such as a tablet or even a laptop or computer) as well as with any TWS device (such as a pair of earphones, a headset, or even a speaker), and it also makes it fully compatible with video calling apps like Zoom.
Finally, it should also be noted that this outdoor sound-absorbing mask also features an elegant open-ear design, so it does not cover the user's ears, which means that the mask is fully compatible (that is, can be used) with most brands of earphones, as well as with most headphones. Head.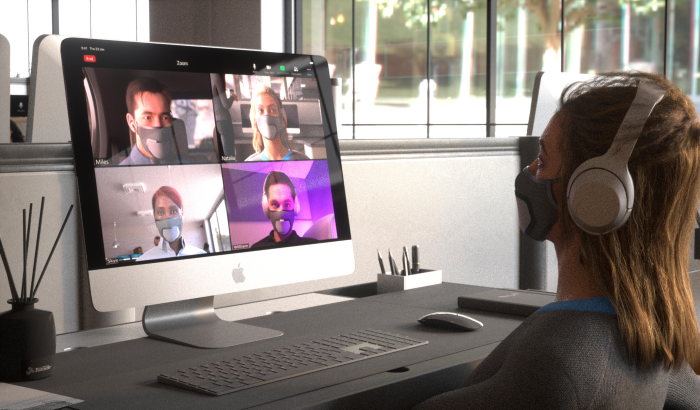 What are SKYTED's future plans for the SKYTED SILENT MASK?
As mentioned earlier, Skyted recently announced the Skyted Silent Mask at CES 2023 in Las Vegas, and the outdoor sound-absorbing mask is already a patented product.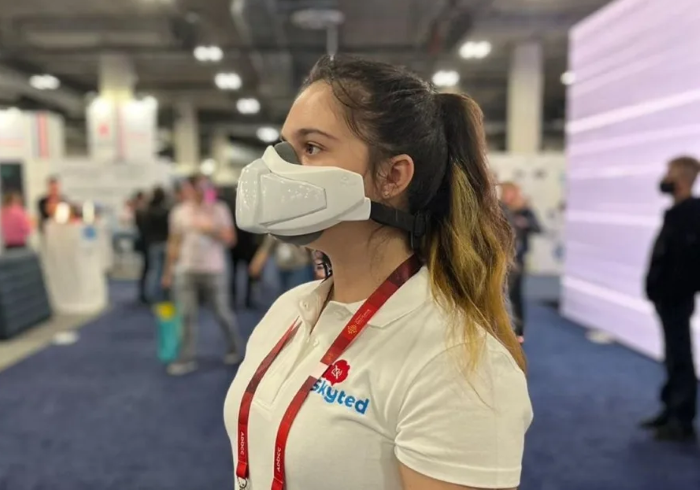 When it comes to the company's plans for sound-absorbing outdoor mask availability, know that Skyted will launch two different Skyted Silent Mask product lines – one for business travelers (called the Silent Mask Headset Business Line) and one for gamers (called the Silent Mask Headset Gamer Line). ).
Silent Mask Headset Business Line is designed as a mask that uses open air technology to make it breathable and comfortable to wear and also to finally silence the user's voice, helping every user to make discreet calls anytime and anywhere, even in noisy and/or crowded environments.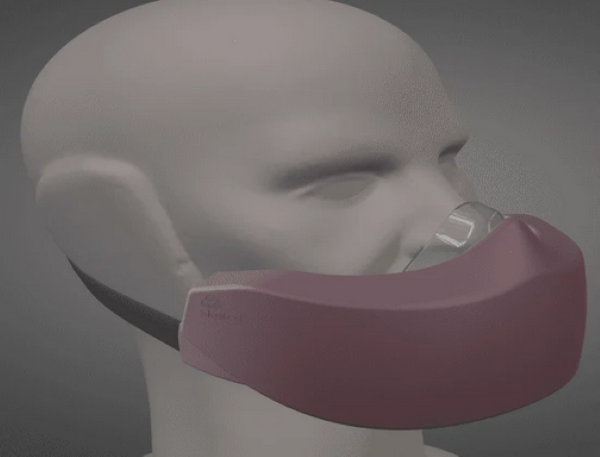 Silent Mask Headset Gamer Line is specially designed for gamers, whose design stems from inspiration in the love of video games. It's designed to be comfortable and easy to breathe with a soundproof mask that ultimately allows users to play games anywhere, anytime, as they can scream and scream during intense gameplay without worrying about disturbing anyone around them (such as people sleeping in the next room, etc.). that).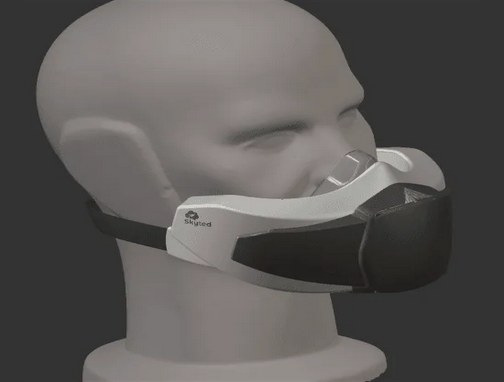 If you're interested in getting your hands on any Skyted Silent Mask product line, know that the company will be soon Kickstarter crowdfunding campaign launched Through March 2023, when you will be able to pre-order your favorite version of Silent Mask. According to Skyted, the Skyted Silent Mask will retail for $400.
Furthermore, Skyted has stated that they can also create custom builds of their Skyted Silent Mask for multiple different uses, and according to the company, they can also create a COVID version of the Silent Mask, which can be used by travelers, travelers, etc.
The company also plans to license Silent Mask to several popular airlines.
If you are interested in learning more about the Skyted Silent Mask and/or if you are interested in continuing to bring it to the consumer market, simply visit Skyted official website.